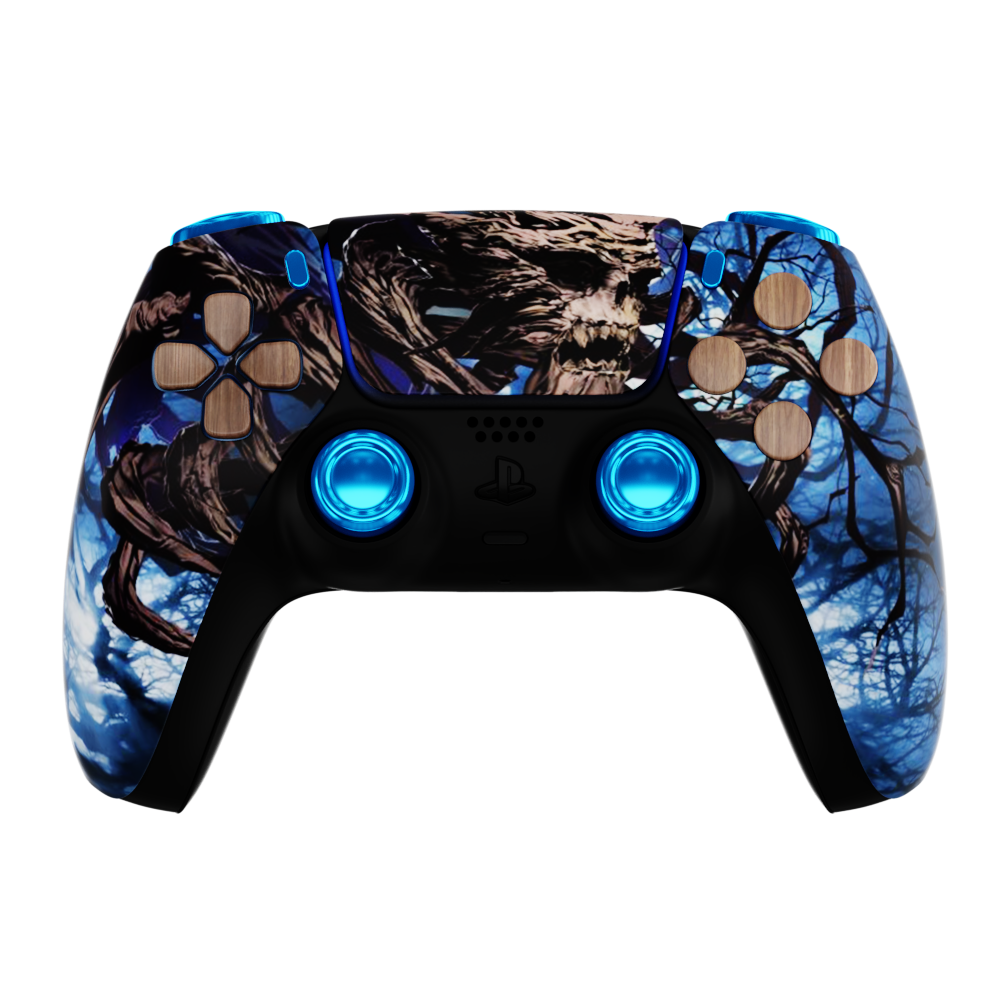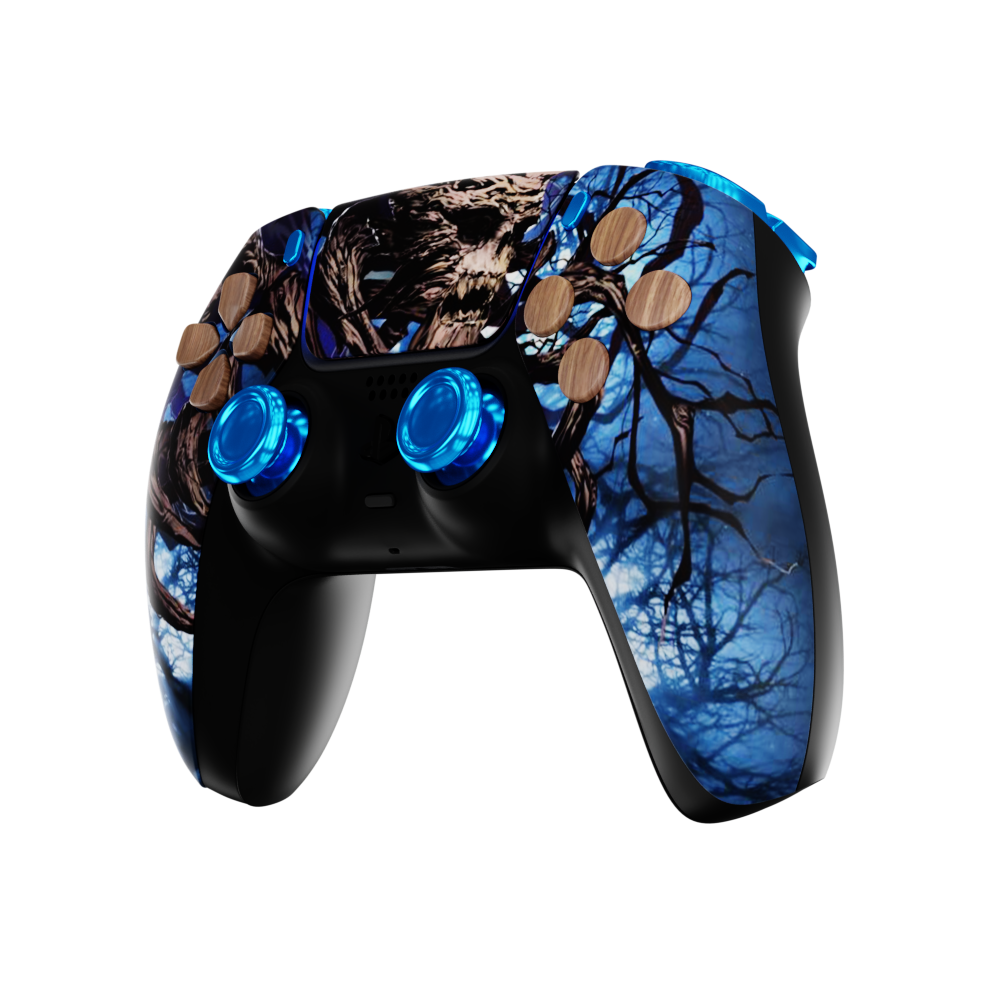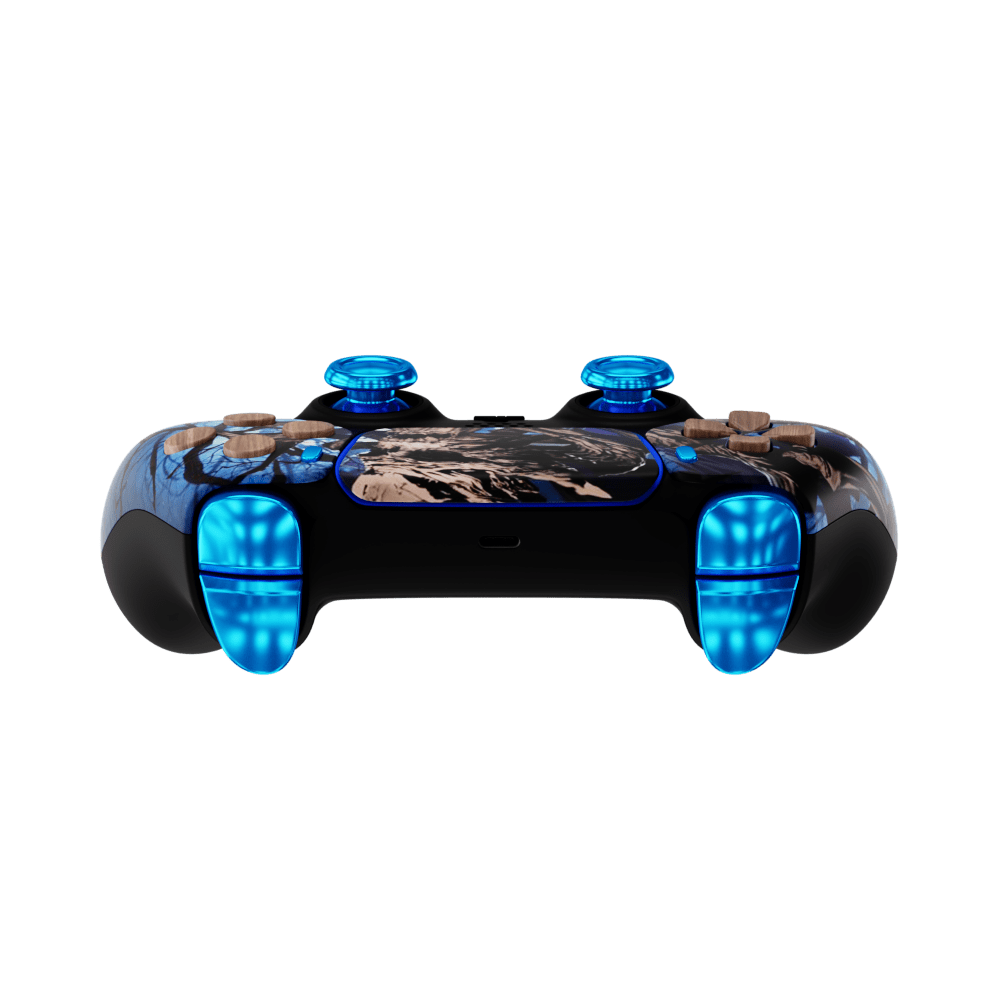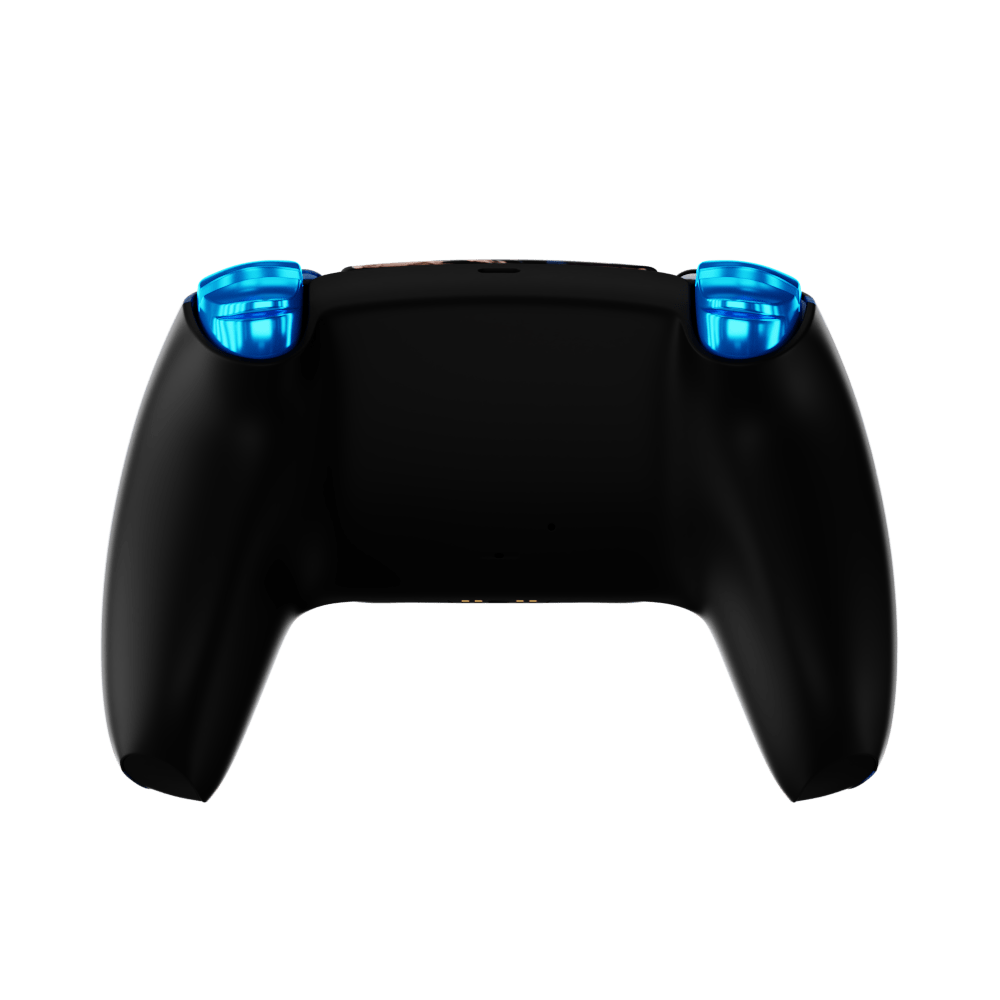 PS5 Custom Controller - Grimroot Edition
---
---
PS5 Custom Controller shipped within 48 Hours.
We use Royal Mail (Tracked) and DPD for shipments of our customised Nintendo Controllers.

Delivery times are dependant on your location. For more information please see our Shipping Policy page. Please note all Controllers are handmade meaning the delivery option you select becomes active once the controller has been manufactured.
PlayStation 5 DualSense Custom Controller - Grimroot Edition

Introducing the Grimroot Edition Customised PS5 Controller: Unleash the Power of Darkness!

Step into a realm of dark enchantment with the mesmerising Grimroot Edition Customized PS5 Controller. Crafted to captivate your senses and ignite your gaming prowess, this extraordinary controller is a testament to sinister elegance and unparalleled performance.

Behold the striking centerpiece of this masterpiece: a haunting wooden skull design, intricately carved to exude an air of mystery and intrigue. Its haunting presence transports you to a realm where shadows dance and secrets whisper in the wind. The juxtaposition of the deep wooden texture against a mesmerising blue atmospheric background creates a visual feast that will leave you spellbound.

The Grimroot Edition takes inspiration from ancient forests, infusing it with an aura of foreboding. Sinister tree branches stretch across the controller's surface, intertwining their gnarled limbs with the skull design. These ominous branches serve as a constant reminder of the dark forces that lie in wait, urging you to explore uncharted realms and conquer the unknown.

Immerse yourself further in this abyssal masterpiece with its chrome blue thumbsticks, bumpers, and triggers. Each click and movement resonates with the raw power that lies dormant within. The icy blue hue emanates an otherworldly energy, empowering you to navigate virtual landscapes with unparalleled precision and control.

But the allure doesn't end there. Every button and the d-pad on the Grimroot Edition is meticulously crafted from smooth, rich wood. The warmth and texture beneath your fingertips transport you to the heart of an ancient forest, forging an unbreakable bond between you and the controller. With each press, the untamed spirit of the wilderness courses through your veins, infusing your gameplay with untold depths of immersion.

Unlock the gateway to a new dimension of gaming with the Grimroot Edition Customised PS5 Controller. A sinister masterpiece that brings together artistry, craftsmanship, and dark allure, it promises to elevate your gaming experience to unparalleled heights. Prepare to immerse yourself in the unknown, embrace the darkness, and conquer the realms that await. Embrace your destiny. Embrace the Grimroot Edition.

Creating Our Custom PS5 Controllers

When it comes to creating custom PS5 controllers, we only use brand new official PS5 controllers as the foundation. We take these original controllers and apply unique modifications and designs to suit individual preferences and styles.

Using brand new official PS5 controllers ensures that the custom controllers maintain the same high-quality performance and functionality as the original product. This means you can expect the same level of responsiveness, button sensitivity, and overall gameplay experience that you would get with a regular PS5 controller.

We take great care to ensure that the modifications and designs they apply to the controllers do not compromise their integrity or functionality. The modifications typically involve adding customised aesthetics, such as unique artwork, patterns, or colour schemes, while preserving the core features and usability of the controller.

By utilising new official PS5 controllers as the base, we can guarantee that every custom controller they create is built to meet the same stringent quality standards set by the original manufacturer. This way, customers can enjoy a personalised gaming experience without sacrificing the performance and reliability that they expect from an official PS5 controller.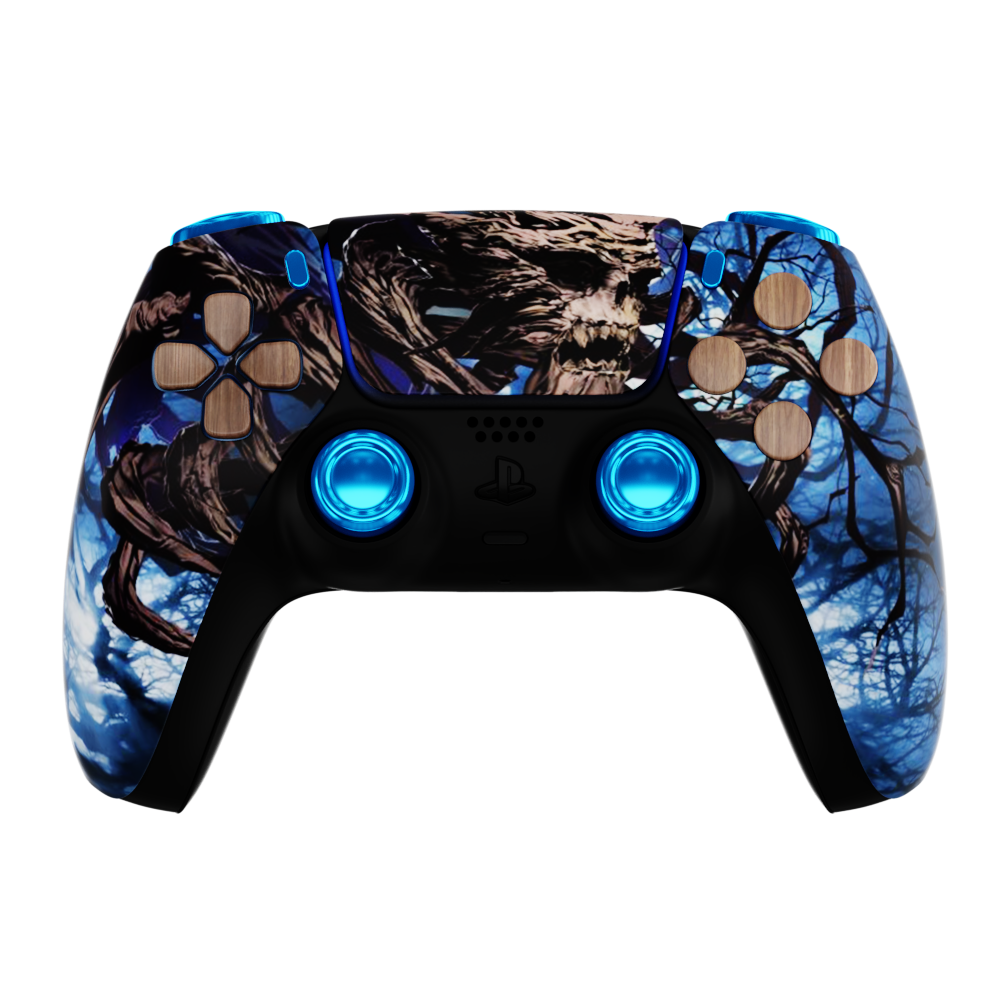 Custom PlayStation 5 Controllers
Bring your gaming to the next level with a custom PlayStation 5 controller - built with the specs of your choice. Choose from a variety of components to create a controller that fits your preferred playstyle and enjoy the optimized gaming experience!
Model
PlayStation 5 DualSense Controller
Connectivity
Wireless and Wired, USB-C Cable, Bluetooth
Features
Haptic Feedback, Adaptive Triggers, Built-in Microphone, Signature Comfort, Integrated Speaker, Motion Sensors, Built-in Battery
Power
Built-in Battery, 12 Hour Battery Life, Rechargeable
PlayStation DualSense Features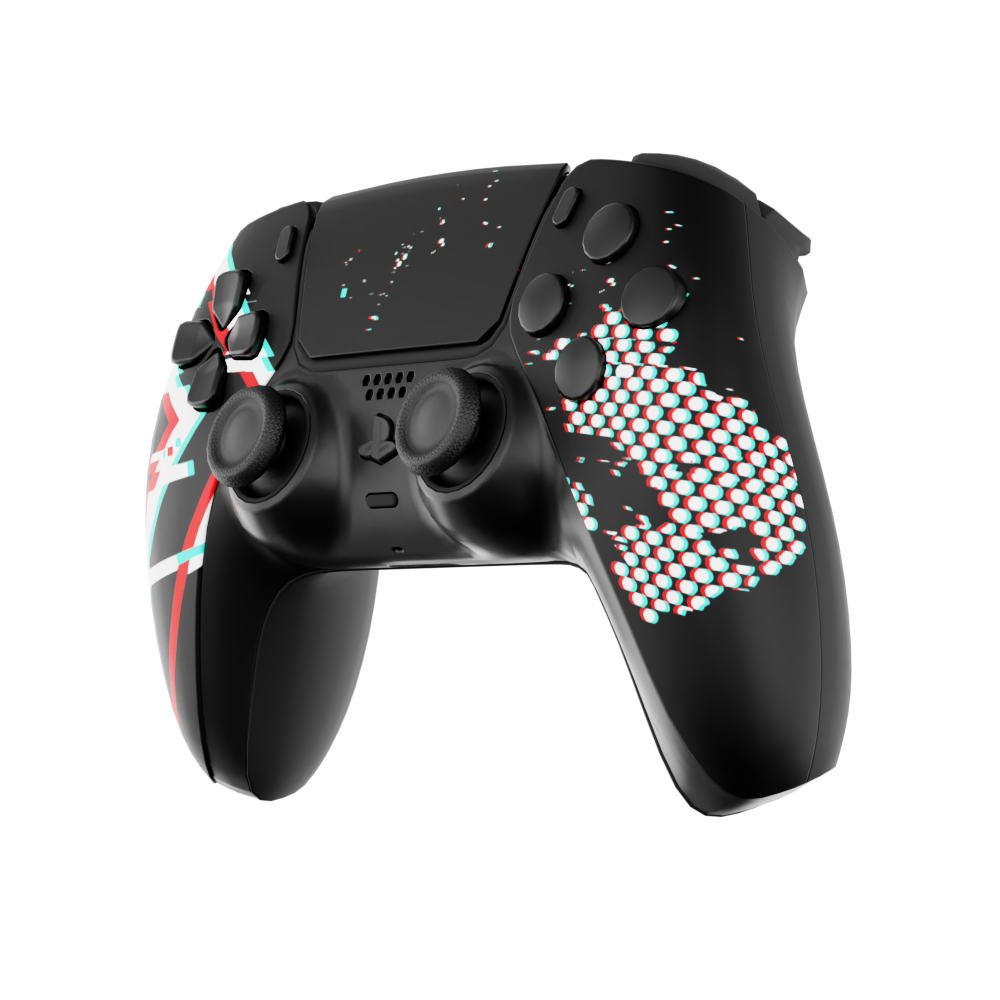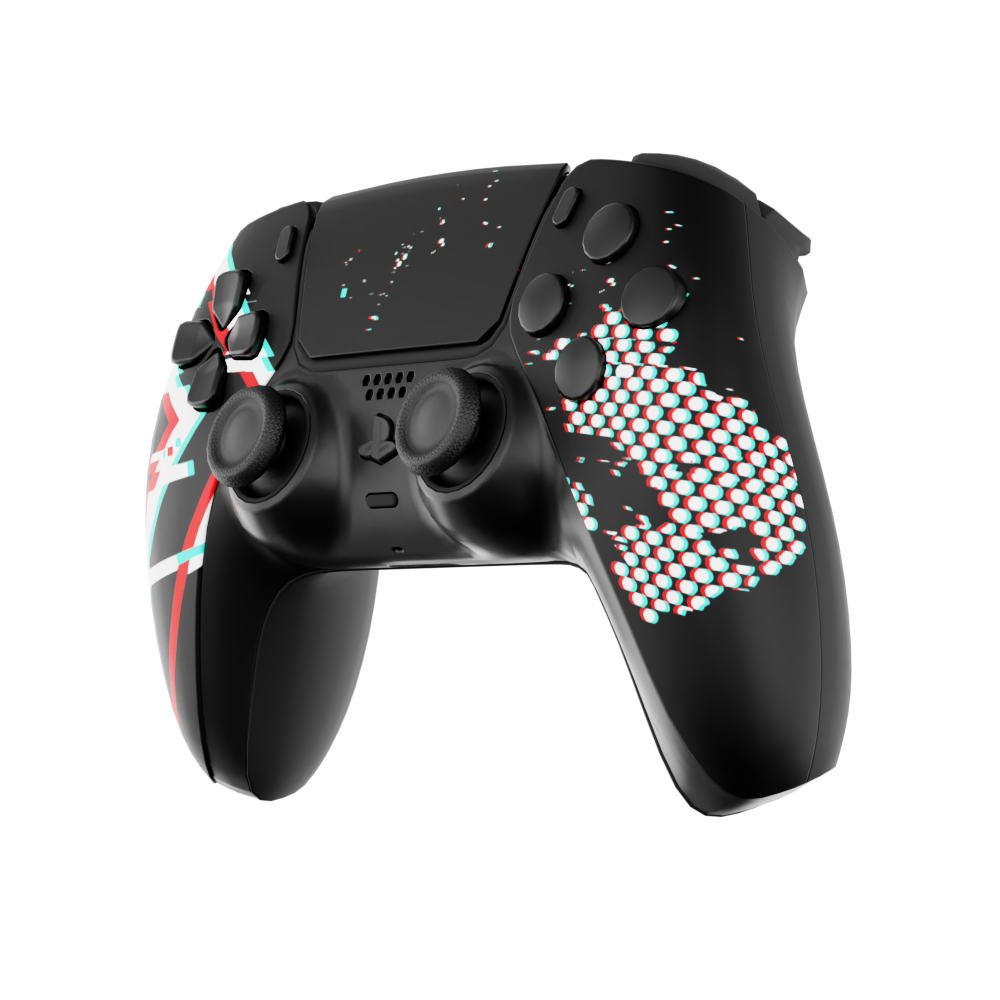 Integrated Speaker
With the select games benefit from an enhanced audio experience with realistic sound effects adapted to the controller. Bring your gaming experience to the next level.
Adaptive Triggers
Immerse yourself in the world of your favourite games with the experience of varying force and tension. Enjoy the feel of realistic gear and environments with each interactive move.
Motion Sensor
Make gaming more immersive with the intuitive motion control of the built-in accelerometer and gyroscope. Enjoy more accurate, fluid motion-tracking for a greater range of games.
FAQ
Discover the answers to some of the most common questions about our remarkable PlayStation 5 Custom Controllers below:
Frequently Asked Questions
Do you use official PlayStation DualSense controllers?

Yes, all of the customised PlayStation 5 controllers are New and Genuine controllers.
Who will deliver my customised PS5 Controller

We use Royal Mail (Tracked) and DPD for shipments of our customised PS5 Controllers.
How long will delivery take?

Delivery times are dependant on your location. For more information please see our Shipping Policy page. Please note all Controllers are handmade meaning the delivery option you select becomes active once the controller has been manufactured.
What payment methods are available?

We accept all major Credit/Debit cards, Apple Pay, Google Pay and Klarna.
There is a 1 year warranty included on all controller purchases. This does not cover accidental damage, loss or theft. All controllers come with a 3 month design warranty. This covers discolouring, chroming and scratching.
This product is rated 5.0 of 5.0 stars.
It has received 2 reviews.