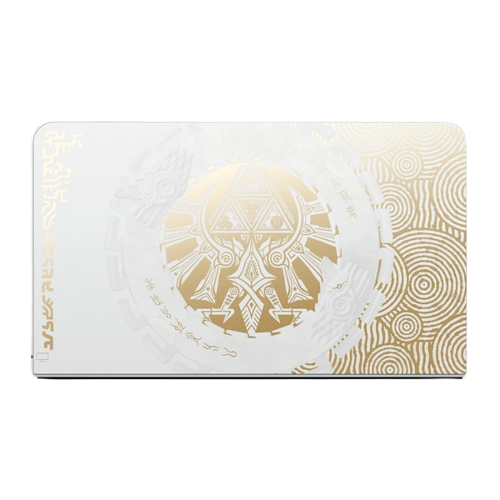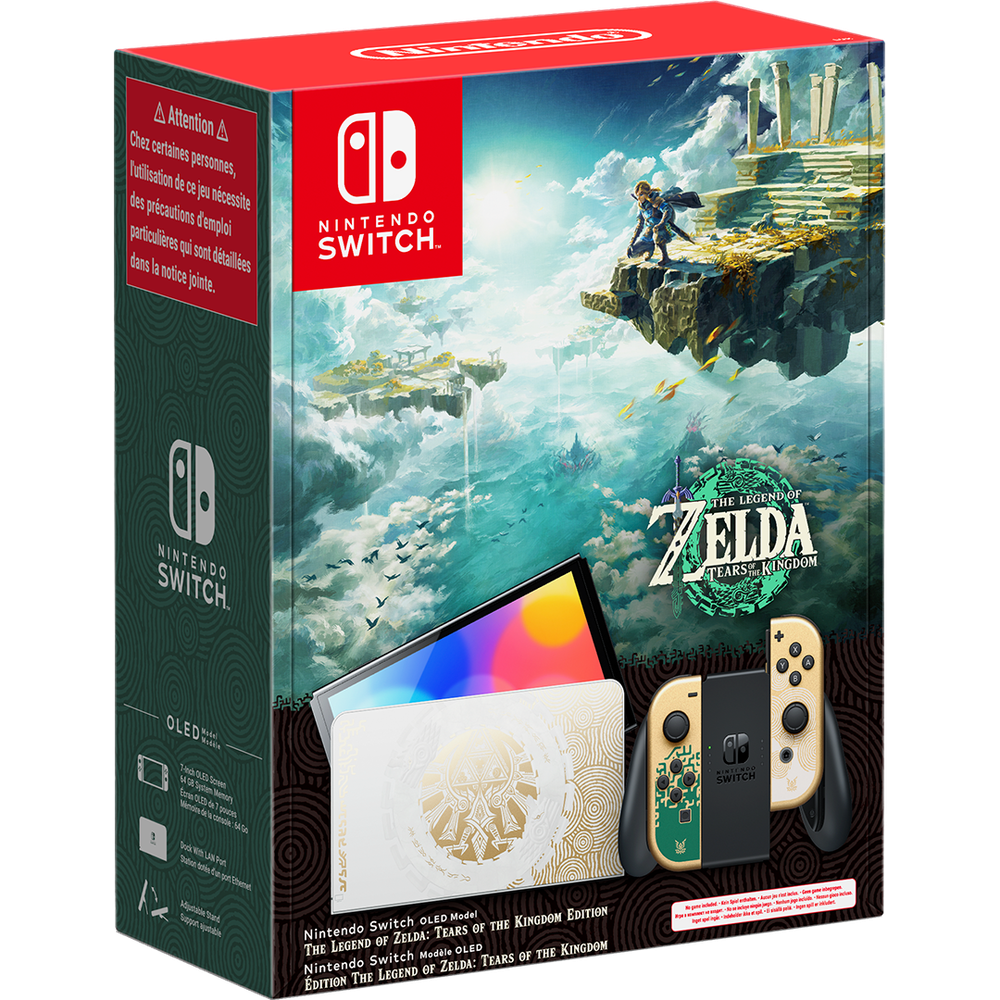 Nintendo Switch OLED 64GB - The Legend of Zelda: Tears of the Kingdom Edition - New
---
Product Grading

Box Contains

Nintendo Switch OLED Console
Switch Dock
Left/Right Joy-Con controllers
Wrist Straps
Joy-Con Grip
AC power adaptor
HDMI cable
NO GAME INCLUDED

Product Specification

The Nintendo Switch – OLED Model - The Legend of Zelda: Tears of the Kingdom Edition, features a special design from The Legend of Zelda: Tears of the Kingdom (sold separately), including the familiar Hylian Crest from the Legend of Zelda series on the front of the dock.

Meet the newest member of the Nintendo Switch family

The new system features a vibrant 7-inch OLED screen, a wide adjustable stand, a dock with a wired LAN port, 64 GB of internal storage, and enhanced audio.

Play anytime, anywhere, with anyone. Nintendo Switch can transform to suit your situation, so you can play the games you want, no matter how busy life may be.

Pick it up and play with the Joy-Con controllers attached. Nintendo Switch (OLED model) includes a vibrant 7-inch OLED screen with a slimmer bezel. The large screen's vivid colours and high contrast deliver a rich handheld and tabletop gaming experience, bringing games to life whether you're racing at top speed or squaring off against enemies.

Flip out the stand and hand a controller to another player to share the screen and enjoy competitive or co-operative multiplayer, anytime and anywhere. Nintendo Switch (OLED model)'s wide adjustable stand can be set to your preferred viewing angle for comfortable gameplay in tabletop mode.

Gather around a big screen and enjoy gaming with a crowd. Dock your Nintendo Switch to enjoy HD gaming on your TV. The dock included with Nintendo Switch (OLED model) features two USB ports, an HDMI port for connecting to a TV, and a new wired LAN port, allowing for more stable online play when playing in TV mode.

Save games to your system with 64 GB of internal storage & Enjoy enhanced audio from the system's onboard speakers.
FAQ
See below our frequently asked question, for more FAQ, please click this link
How long will delivery take?

Delivery times are dependant on your location. For more information please see our Shipping Policy page. Please note all Controllers are handmade meaning the delivery option you select becomes active once the controller has been manufactured.
What payment methods are available?

We accept all major Credit/Debit cards, Apple Pay, Google Pay and Klarna.
There is a 1 year warranty included on all controller purchases. This does not cover accidental damage, loss or theft. All controllers come with a 3 month design warranty. This covers discolouring, chroming and scratching.