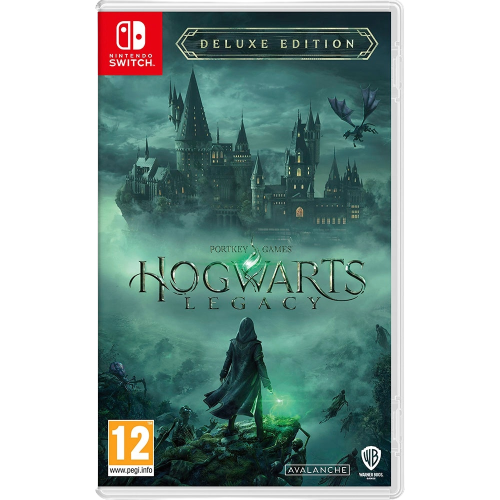 Hogwarts Legacy: Deluxe Edition (Nintendo Switch)
---
Release Date: 14th November 2023
PRODUCT GRADING
Grade New - Brand New sealed.

PRDOUCT INFORMTION
The Hogwarts Legacy Deluxe Edition Includes the Dark Arts Pack:
Thestral Mount
Dark Arts Battle Arena
Dark Arts Cosmetic Set
Hogwarts Legacy is an immersive, open-world action RPG set in the world first introduced in the Harry Potter books. Experience Hogwarts in the 1800s as you play as a pupil who holds the key to an ancient secret that threatens to tear the wizarding world apart. 
The wizarding world awaits you. Freely roam Hogwarts, Hogsmeade, the Forbidden Forest, and the surrounding Overland area. Learn spells, brew potions, grow plants, and tend to magical beasts along your journey. Get sorted into your house, forge relationships, and master skills to become the witch or wizard you want to be.
Experience the wizarding world in a forgotten era to uncover a hidden truth from its past. Battle against trolls, dark wizards, goblins, and more as you face a dangerous villain threatening the fate of the wizarding world.
Embark on a journey through familiar and new locations as you explore and discover fantastic beasts, customise your character and craft potions, master spell casting, upgrade talents and become the wizard you want to be. Your legacy is what you make of it.
The Deluxe Edition comes with the game, plus the following digital items: Dark Arts Pack (Dark Arts Cosmetic Set, Thestral Mount, Dark Arts Battle Arena), and a Dark Arts Garrison Hat.