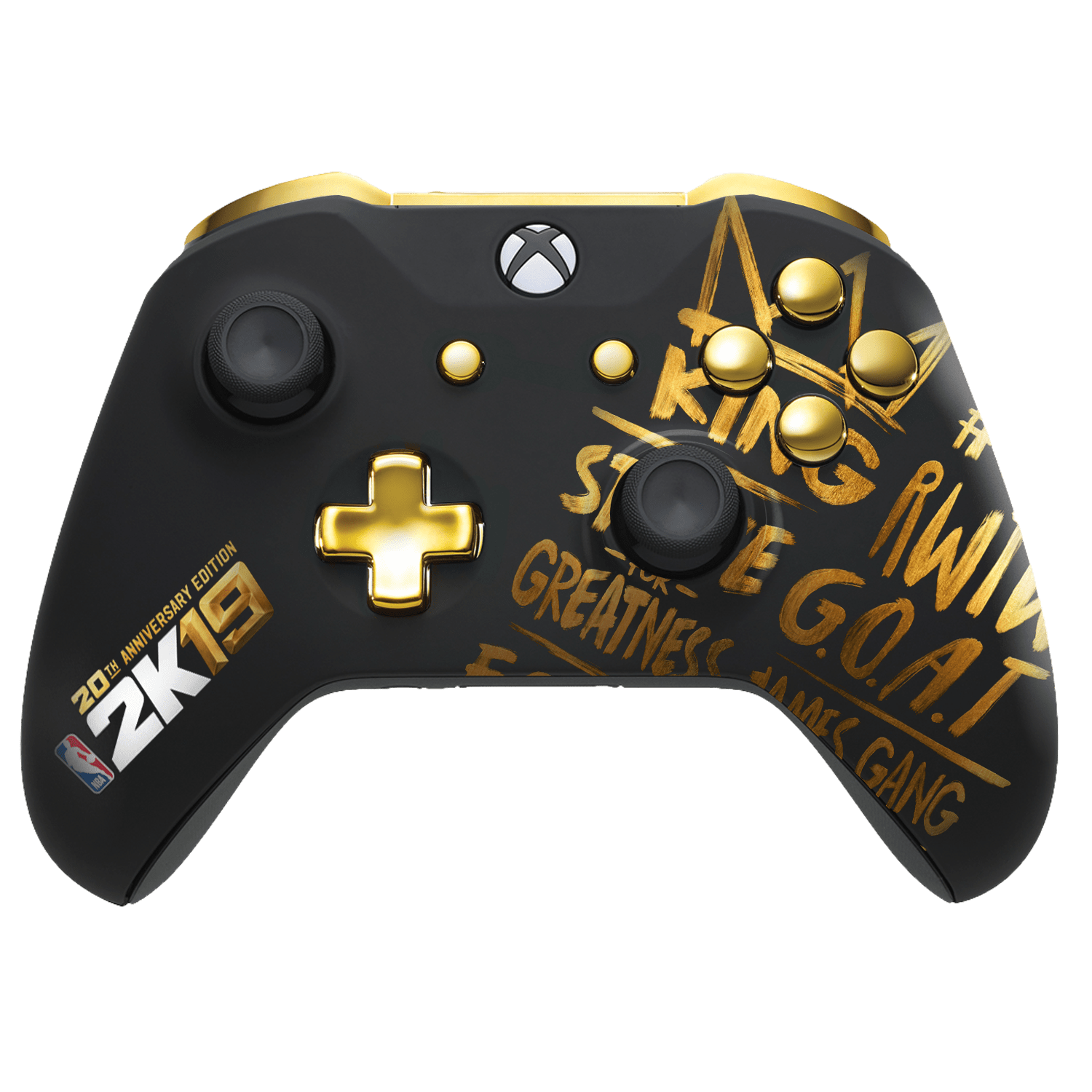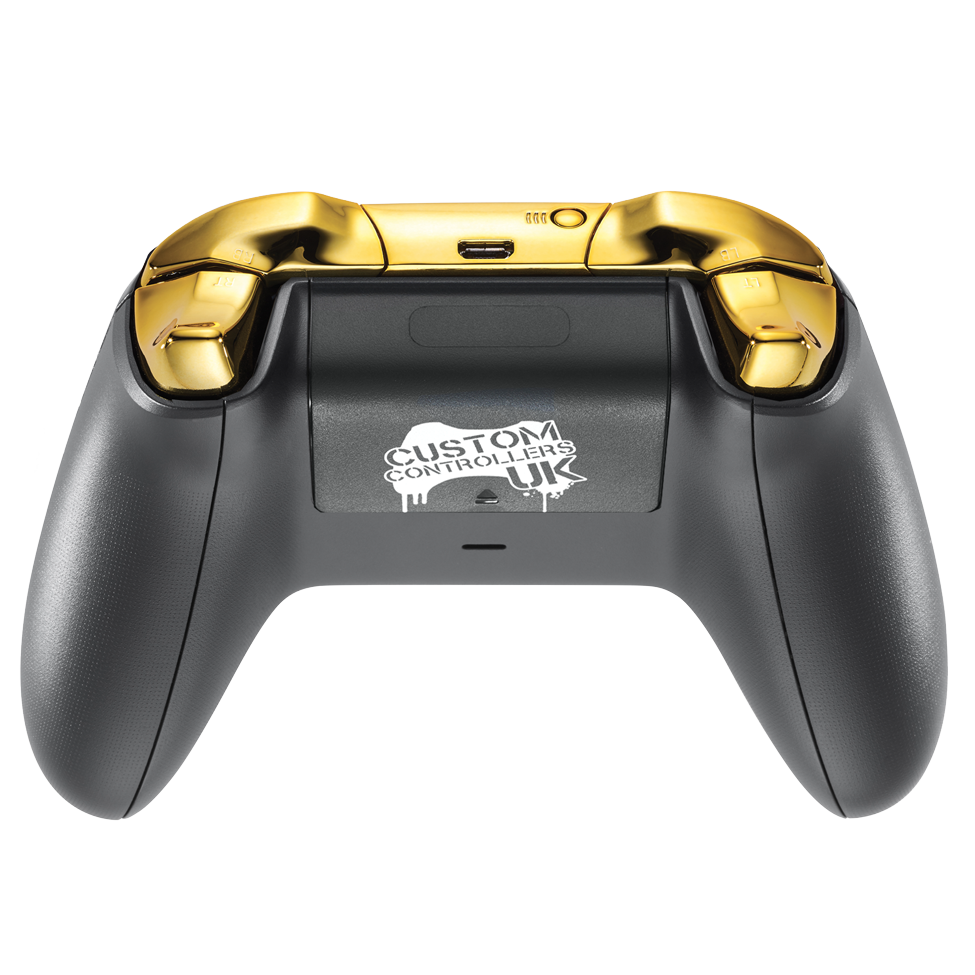 Xbox One S Controller - NBA 2K19 - Limited Edition - Custom Controller
---
Xbox One Controller - NBA 2K19 - Limited Edition - Custom Controller

Get your hands on a piece of history! The Limited Edition and ultra-rare NBA2k 20th Anniversary Controller.  

Become A Champion

We have worked in collaboration with 2K Games to create a controller to show off the rich history of NBA 2K. 20 years of greatness has led to this. One limited edition Xbox One custom controller that delivers the ultimate looks and controls. Featuring an emboldening black and gold design with inspiring words and phrases covering the controller. Giving you the feeling of a champion. So that when you are playing NBA 2K, you will feel the glorious past of this game series flowing through you.  

A Controller Made For A King

A controller built for a king. We want to make sure that you feel the greatness of this controller for a long time after buying and that the quality is always as strong as you hope it is. That is why we only use genuine brand-new Xbox controllers in the creation of all of our custom Xbox controllers. And once made, we then test our controllers based on a 20-point checklist. By doing this, we can ensure that the controller works completely.

Xbox One Controller Features

We can guarantee that you get all of the features that you know and love with any official Xbox controller. Including: 

Xbox One, Xbox Series S/X and Windows 7/8.1/10 compatibility

 

Up to an 18-foot wireless range

 

Compatible with Xbox One Play and Charge Kit, Chat Headset, Stereo Headset, Chat pad and more

 

Includes 3.5mm stereo headset jack

 

Textured grip for more control

 

Backwards Compatibility

Perform at the very top level no matter what platform you are playing on. Thanks to the Xbox One controllers' compatibility with Xbox Series X and Windows 7/8.1/10, you can take the best Xbox controller onto the platform of your choice. No more hassle of having to swap between controllers and adapt to controls every time, simply connect your controller to your console or PC and start playing off the bat.  

Our Collaborations

Some of CCUK's greatest collaborations have been with 2K games, and this controller just shows it. But there are many other collaborations we have been a part of that you may be interested in. Like our Sidemen Edition exclusive Xbox controllers! Learn more about our partners and collaborations now by simply pressing here!  

More Xbox Controllers

If you love this design, then you will also love our exclusive Xbox Series X controllers. Discover incredible designs that you cannot find anywhere but here. Like our Neo Storm Edition controllers. A multicoloured lightning bolt design that is now available for all platforms. Or even our popular Venom edition custom controllers. Featuring a black and white infesting design that is also available on all platforms!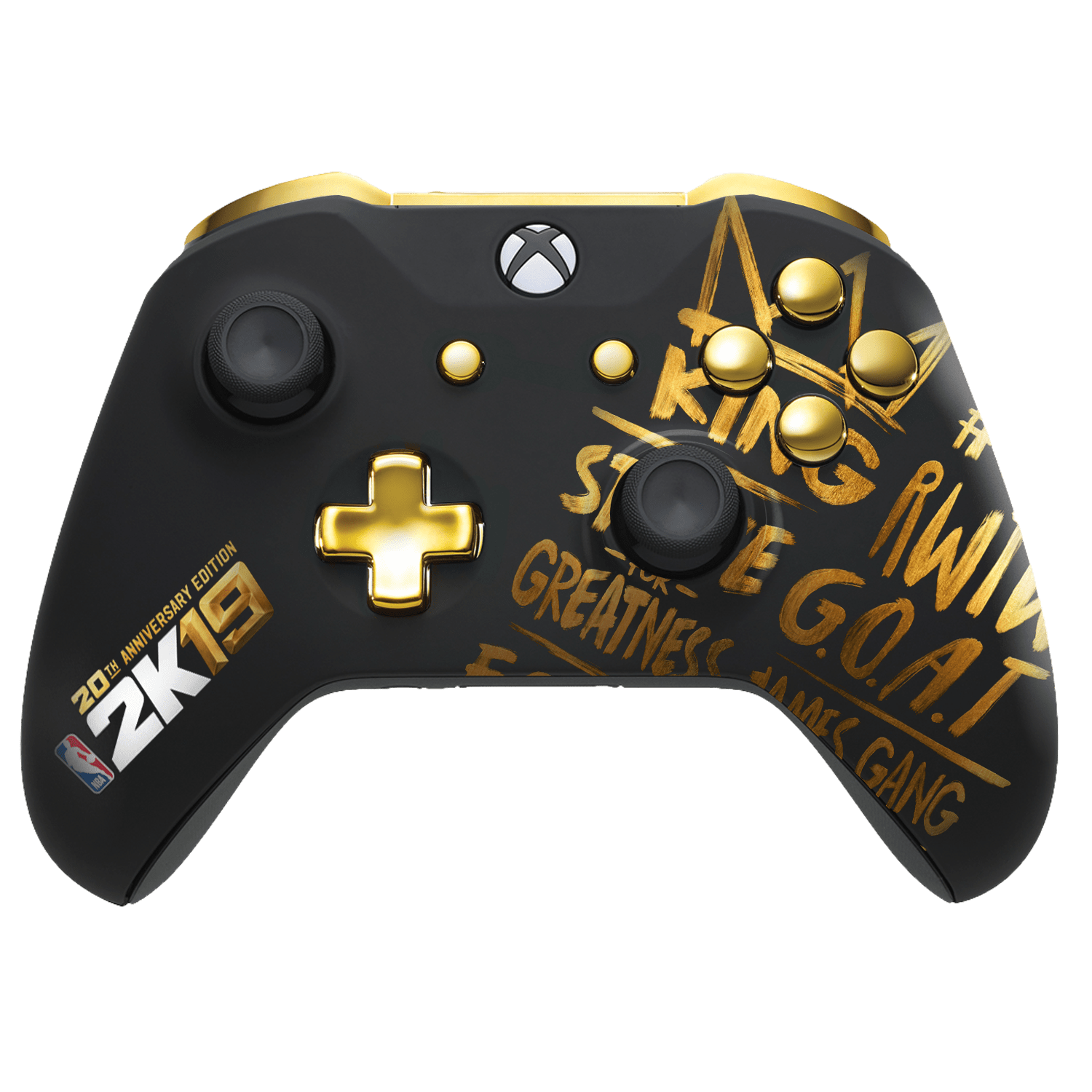 FAQ
See below our frequently asked question, for more FAQ, please click this link
How long will delivery take?

Delivery times are dependant on your location. For more information please see our Shipping Policy page. Please note all Controllers are handmade meaning the delivery option you select becomes active once the controller has been manufactured.
What payment methods are available?

We accept all major Credit/Debit cards, Apple Pay, Google Pay and Klarna.
There is a 1 year warranty included on all controller purchases. This does not cover accidental damage, loss or theft. All controllers come with a 3 month design warranty. This covers discolouring, chroming and scratching.
This product has no reviews yet.